Kwara State University Institute of Professional and Continuous Education invites suitably qualified candidates for admission into its Top-up Degree and HND conversion Programme
ABOUT THE PROGRAMME
KWASU Top-up Degree and HND Conversion Programmes are designed to promote self-actualization and to address the dichotomy that exists between the B.Sc and HND certificate holders through the provision of a platform on which a university degree Holder could "top-up" and come out better. Similarly, a holder of a University degree who may wish to cross into any other related discipline is afforded the opportunity through this programme.
Courses available for interested candidates at the
Faculty of Agriculture,
Faculty  of Education
Faculty of Engineering
Faculty of Information & Communication Technology
Faculty Humanities, Management and Social Sciences and 
Faculty of Pure Applied Sciences.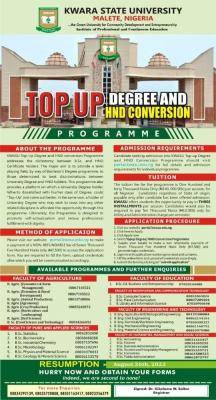 | Faculty | Department | Programme Name |
| --- | --- | --- |
| Agriculture | Animal Production Fisheries and Aquaculture | B.Agric(Animal Production) |
| Agriculture | Crop Production | B.Agric(Crop Production) |
| Agriculture | Agricultural Economics and Extension Services | B. Agric (Agriculture) |
| Agriculture | Agricultural Economics and Extension Services | B.Agric(Agricultural Economics) |
| Agriculture | Agricultural Economics and Extension Services | B.Agric(Agricultural Extension) |
| Agriculture | Food Science and Technology | B. Tech. (Food Science and Technology) |
| Humanities, Management and Social Sciences | Economics and Development Studies | B. Sc. (Economics) |
| Humanities, Management and Social Sciences | Accounting and Finance | B.Sc Accounting |
| Humanities, Management and Social Sciences | Accounting and Finance | B.Sc. Finance |
| Humanities, Management and Social Sciences | Politics and Governance | B.Sc. Public Administration |
| Humanities, Management and Social Sciences | Business and Entrepreneurship | Business Administration |
| Humanities, Management and Social Sciences | Creative Arts and Tourism | B.Sc. (Tourism, Hospitality and Events Management) |
| Education | Business Education | B.(Ed.) (Business Education) |
| Information and Communication Technology | Computer Science | B.Sc. Computer Science |
| Information and Communication Technology | Library and Information Science | Blis. (Library and Information Science) |
| Information and Communication Technology | Mass Communication | B.Sc. Mass Communication |
| Pure and Applied Sciences | Chemistry and Industrial Chemistry | B. Sc. Industrial Chemistry |
| Pure and Applied Sciences | Biochemistry | B. Sc. Biochemistry |
| Pure and Applied Sciences | Geology and Mineral Science | B. Sc. Geology and Minieral Science |
| Pure and Applied Sciences | Microbiology | B. Sc. Microbiology |
| Pure and Applied Sciences | Physics and Material Science | B. Sc. Physics and Material Science |
| Pure and Applied Sciences | Mathematics and Statistics | B. Sc. Statistics |
| Engineering and Technology | Civil and Environmental Engineering | B.Eng. Civil and Environmental Engineering |
| Engineering and Technology | Electrical and Computer Engineering | B.Eng. Electrical and Electronics Engineering |
| Engineering and Technology | Food and Agricultural Engineering | B.Eng. Agricultural and Biological Engineering |
| Engineering and Technology | Mechanical Engineering | B.Eng. Mechanical Engineering |
| Engineering and Technology | Material Science and Engineering | B.Eng. Material Science and Engineering |
Interested candidates can apply for the programme via KWASU application portal at the cost of N7,500 (seven thousand five hundred naira only)
NOTE: Deadline for registration: Friday, September 30th, 2022
For further on admission requirements, visit: www.kwasu.edu.ng or call: 08067105522, 08063153027, 08031163417, 08032065824