Applications are invited from eligible candidates for admission into this College for Basic Midwifery and Post Basic Nursing Programmes at its Kafanchan campus only.
Interested Candidates are to visit the College website at https://applications.kscnm.edu.ng and CLICK on "Not registered," the application platform will be open for new applicants to fill the application form click on "Submit". Applicants are advised to print the "Acknowledgement Slip" to know their application status.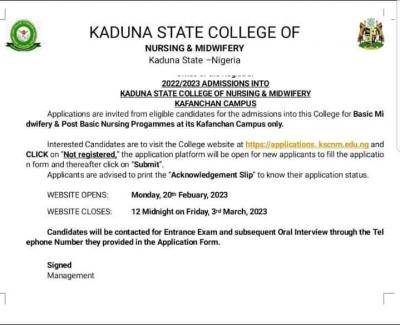 WEBSITE OPENS: Monday 20th February 2023
WEBSITE CLOSES: Friday 3rd March 2023
Candidates will be contacted for Entrance Exam and subsequent Oral Interview through the Number they provided in the Application Form.
Signed
Management