This is to inform all candidates who choose Federal University of Kashere as most preferred (1st choice) for admission into the various Undergraduate Degree Programmes that the Post-Utme/DE screening exercise is scheduled to hold online from Monday 24th October, to sunday 13th December,2022. Please note that the UTME candidates must have obtained a minimum of 150 points (in relevant subjects) in the 2022 and DE candidates must have obtained NCE/IJMB/ND/A' LEVEL GCE in relevant subject.
Procedure for online Registration and Payment of the Screening Fee
i. Log on to https://fuk.admissions.cloud click on 2022/2023 Post-UTME/DE screening form and use your JAMB Registration number as USERNAME and PASSWORD to proceed;
ii. Pay a non-refundable sum of N2,000.00 only screening fees in favour of Federal University of Kashere by following the process accordingly;
iii. Follow and fill the details as displayed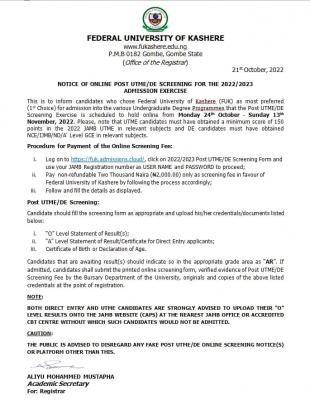 Post UTME/DE Screening:
Candidate should fill the screening form as appropriate and upload his/her credentials/documents as shown below:
i. 'O' Level Statement of Result(s)
ii. 'A' Level Statement of Result/Certificate for Direct Entry applicant
iii. Certificate of Birth or Declaration of age
Candidates that are awaiting result(s) should indicate so in the appropriate grade area as 'AR'.
If admitted, candidates shall submit the printed online screening form verified evidence of Post-Utme/DE screening fee by the bursary department of the University, original and the copies of the above listed credentials at the point of registration.
NOTE: BOTH DIRECT ENTRY AND UTME CANDIDATES ARE STRONGLY ADVISED TO UPLOAD THEIR 'O' LEVEL RESULTS ONTO THE JAMB WEBSITE (CAPS) AT THE NEAREST JAMB OFFICE OR JAMB ACCREDITED CBT CENTRE WITHOUT WHICH SUCH CANDIDATE WOULD NOT BE ADMITTED.
CAUTION:
THE PUBLIC IS ADVISED TO DISREGARD ANY POST UTME/DE ONLINE SCREENING NOTICE/PLATFORM OTHER THAN THE ONE ABOVE.
SEE ALSO: List Of Institutions That Have Released Post-UTME Forms