This is to inform the general public that the admission form into Enugu State College Of Health Technology (ESCOHTECH) for the 2023/2024 academic session is now available on-line.
PAYMENT INSTRUCTION (USE EITHER OF THE OF THE PAYMENT OPTION BELOW)
CARD PAYMENT/BANK TRANSFER
Make payment on the portal using debit card (Naira Master,Visa or Verve card)
Or Transfer into the account number provided on the portal
OR IN-BRANCH PAYMENT (FIRST BANK, FBN)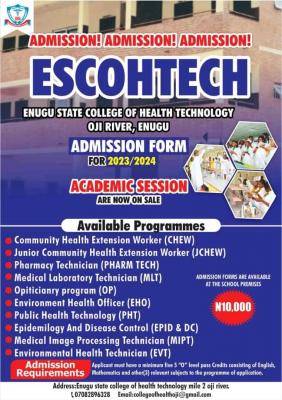 The under-listed are the available programmes for the 2023/2024 session.
Applications are invited from suitably qualified candidates for admission into various programmes of the College.
Application fees is Ten Thousand Naira (N10,000 .00). Payment is to be made on the portal via ATM cards or available payments method.
For further enquires call the admission office on 08148754246 (9am to 6pm weekdays)
PROGRAMMES AVAILABLE AND THEIR ENTRY REQUIREMENTS:
COMMUNITY HEALTH

CHEW (COMMUNITY HEALTH EXTENSION WORKER)
JCHEW (JUNIOR COMMUNITY HEALTH EXTENSION WORKER)

MEDICAL LABORATORY

MLT (MEDICAL LABORATORY TECHNICIAN)

ENVIRONMENTAL HEALTH SCIENCE

ENVIRONMENTAL HEALTH OFFICER (EHO)
ENVIRONMENTAL HEALTH TECHNICIAN (EHT)

X-RAY AND MEDICAL IMAGING (RADIOGRAPHY)
PHARMACY TECHNICIAN

(PHARMACY TECHNICIAN DEPARTMENT)
ADMISSION REQUIREMENTS
Prospective candidates must have completed the National Diploma (ND) programme in relevant area with at least lower credit pass at the final examinations.
Five (5) credit passes in English Language, Mathematics, Biology, Chemistry.
Instructions to Applicants:
Make sure to provide valid email address you have access to, and valid informations as you fill the Application Payment Form.
Attach a passport of yourself with RED background and other specified property
Application form must be filled and submitted online before the closing date
Fill the application form (take note of compulsory fields with asterisks *)
Click on VERIFY PAYMENT to make a payment of 10,000 (Ten thousand naira) application fee
Preview your application details and submit
Payment of N10,000 qualify you for the below:
Admission Form
Stamp
Past Question & Answer
Remitta Payment
Processing Fee
EXAMINATION
Date: Day?/Month?/Year 2023 (TO BE COMMUNICATED LATER)
Venue: College of Health Technology Oji River Enugu State Hall.
BRING ALONG A PENCIL,ERASER,RULER, PEN AND ORIGINAL RECEIPT ISSUED BY UNTH ACCOUNTS WITH GUMMED PASSPORT. (NO ENTRY INTO THE EXAMINATION HALL WITHOUT THESE
ENTRY REQUIREMENT
YOU MUST HAVE AT LEAST A CREDIT EACH IN AT LEAST 5 SUBJECTS IN YOUR SENIOR SCHOOL CERTIFICATE EXAMINATION INCLUDING: ENGLISH LANGUAGE, MATHEMATICS, BIOLOGY, CHEMISTRY AND PHYSICS
ONLY CANDIDATES WHO POSSESSES THE ENTRY REQUIREMENTS AND SATISFY THE PANEL SHALL BE CONSIDERED FOR ADMISSION.