This is to inform the general public that the Academic Board of the College of Education, Akwanga has approved the release of Admission into NCE 1 for the 2022/2023 Academic Session.
2. Successful candidates should check their Names on the College Notice Board and Ministry of Education Headaquarters, Lafia.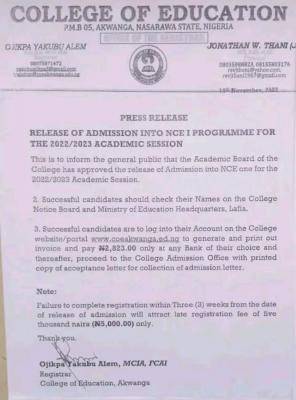 3. Successful candidates are to log into their Account on the College website/portal www.coeakwanga.edu.ng to generate and print out invoice and pay N2,823.00 only at any Bank of their choice and thereafter, proceed to the College Admission Office with printed copy of acceptance letter for collection of admission letter. they are also to visit the JAMB CAPS and accept their admission offer.
Note:
Failure to complete registration within Three (3) Weeks from the date of release of admission will attract late registration fee of Five Thousands naira (N5,000.00) only.
Thank you.
Ojikpa Yaicubu Alem, MCIA, FCAI
Registrar
College of Education, Akwanga