For admission to the university's degree programs, applications are being accepted from qualified candidates. Ave Maria University was founded to meet Nigeria's need for quality education and is approved and accredited by the National University Commission. The university is dedicated to providing intellectual, moral, vocational, and sound education in order to produce total men and women who will have a positive impact on society.
Admission forms for the following programs are available on the university's website:
FACULTY OF LAW
FACULTY OF SOCIAL AND MANAGEMENT SCIENCES 
B.Sc. Peace Studies and Conflict Resolution
B.Sc. International Relation and Diplomatic Studies
B.Sc. Industrial Relation and Personnel Management
B.Sc. Taxation
B.Sc. Economics
B.Sc. Business Administration
B.Sc. Entrepreneurship Studies
B.Sc. Accounting
B. Sc. Psychology
B.Sc. Criminology and Security Studies
B.Sc. Political Science
B.Sc. Mass Communication
B.Sc. Public Administration
FACULTY OF BASIC SCIENCES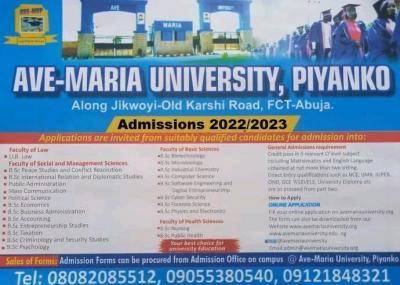 B.Sc. Biotechnology
B.Sc. Microbiology
B.Sc. Industrial Chemistry
B.Sc. Biochemistry
B.Sc. Computer Science
B.Sc. Software Engineering and Digital Entrepreneurship
B.Sc. Cyber Security
B.Sc. Forensic Science
B.Sc. Physics with Electronics
FACULTY OF HEALTH SCIENCES
B.Sc. Nursing
B.Sc. Public Health
B.Sc. Medical Laboratory Science
UTME CANDIDATES
Prospective candidates with 2022/2023 UTME results are eligible to apply. The minimum qualification for Degree programs is five (5) relevant O/Level Credits, including English and Mathematics, obtained in no more than two (2) sittings.
Prospective candidates whose UTME choice is not Ave Maria University are also eligible to apply, but must change their UTME choice to Ave Maria University through JAMB after being offered admission.
Candidates who are awaiting the results of this year's WEAC and NECO may also apply.
DIRECT ENTRY
Prospective candidates for Direct Entry admission must have completed JAMB Direct Entry form, obtained five (5) relevant O' Level Credits including English and Mathematics at not more than two (2) sittings and an A' Level result (JAMB, National Diploma with a minimum of Lower Credit and Cambridge A/Levels Results).
METHOD OF APPLICATION:
Interested Candidate are to visit https://www.avemariauniversity.edu.ng/application-form/ to complete the online application form.
RELATED POST: List of Institutions That Have Released POST-UTME Form