This is to inform all candidates who applied for admission into regular degree programmes of Abia State University, for the 2022/2023 academic session, that the Post-UTME screening exercise has been scheduled as follows;
Day 1: Wednesday, 19th October, 2022
Faculty of Biological Sciences
Faculty of Physical Sciences
College of Medicine
Faculty of Health Sciences
Venue: Uturu Campus
Day 2: Thursday, 20th October, 2022
Faculty of Law
Faculty of Agriculture
Venue: Umuahia Location
Faculty of Economics & Management Sciences
Faculty of Social Sciences
Venue: Uturu Campus
Day 3: Friday, 21 October, 2022
Faculty of Education
Faculty of Engineering
Faculty of Environmental Studies
Faculty of Humanities
Venue: Uturu Campus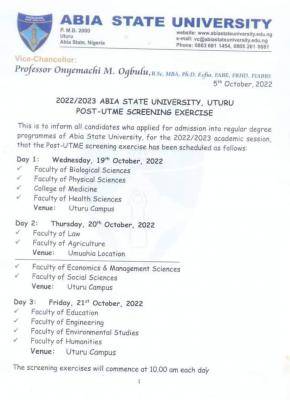 The screening exercises will commence at 10.00 am each day.
Candidates Qualified for the Screening Exercise
✓Candidates who chose Abia State University as their 1st Choice, 2nd Choice and those who did not choose the University at all in the UTME. but want to change to Abia State University:
✓Candidates who scored 140 and above in the Unified Tertiary Matriculation Examination (UTME):
✓Candidates who possess the basic five o'level credit passes in accordance with the University entry requirements:
√All Direct Entry Candidates.
Procedure for Registration for the Screening Exercise
Candidates are expected to register for the screening exercise online by logging into www.abiastateuniversity.edu.ng and making e payment of two thousand Naira (42,000.00) only, in any of the. following Banks:
✓ABSU Micro-Finance Bank, Uturu
✓ Eco Bank Plc
✓ Zenith Bank Plc
✓ Fidelity Bank Plc Union Bank Plc
✓ UBA Pic
Payment via bank debit cards
(b) Candidates who do not register for the Post-UTME screening exercise will not be considered for admission.
(c) Further details about the screening exercise can be obtained online at www.abiastateuniversity.edu.ng.
ABSU is the place to be.
All Covid-19 protocols will be strictly observed.